We know you're always trying to be just a little bit better than you were yesterday. At Turn90, we are too.
Introducing DECO: an easier and faster way for you to request quotes and submit orders to the Turn90 Print Shop.
Check out the new way to get the best screen printing in South Carolina!
From now on, when you click Get a Quote on the Turn90 Print Shop website, you'll see this: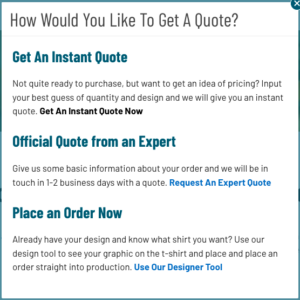 You now have three ways to launch your Turn90 product order.
This is perfect for the customer who knows what they want, how they want it to look and loves instant feedback. Use this form to choose your exact t-shirt and artwork placement, and get a quote immediately. Product options are updated based on what's in stock at the time of your request. Please note that if you don't see a size, it's not available. Because supply chains.
Here's the link for those who liked things the way they were. Use this link to enter some information about what you need and our team of experts will get back to you with a quote in 1-2 business days.
Do you know exactly what kind of shirt you want? Do you have your artwork nailed down and know exactly where you want it? This is your opportunity to choose your shirts, upload your logo, and place your order safely and securely. It's fast, it's safe, and if we have questions, we won't hesitate to follow up with you to ensure your order is exactly what you need it to be.
New system, new pricing structure
So here's the thing: this isn't anywhere near as scary as it sounds. We're still learning how to be an efficient and effective social enterprise, and as such, when we noticed our existing pricing structure was nowhere near as consistent as it needed to be, we took action. So the next time you order, you may notice a difference, but don't hesitate to ask if you need something different. We want to work with you to ensure a price point you're happy with, and the quality you expect from your favorite professional screen-printer.
The Print Shop with a purpose
Melanie Johnson of the Lowcountry Food Bank said recently, "Turn90's quality and customer service are top-notch, and we love that we can support a local nonprofit doing such great work in our community." We offer high-quality screen-printing in Charleston and Columbia, and anywhere in between.
Buy shirts and help men find a new direction after prison. Thank you for your business; it means the world to us.