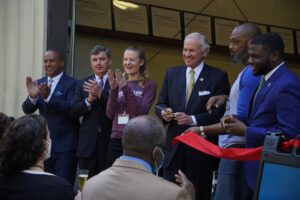 A New Name and a Second Location Will Help Turn90 
Reshape Reentry Services Across the State
Turning Leaf, Charleston's successful prison re-entry program, has announced a name change and opened its new center in Columbia. Now called Turn90, the program creates a new direction for men at the highest risk of re-arrest who return from prison to the Lowcountry and the Midlands. 
"We have big dreams," says Turn90 Founder and Executive Director, Amy Barch. "Our goal is to become the first ever nationally recognized evidence-based prison reentry program. A trademarked name is a must for where we're headed. Google Turning Leaf and you'll find dozens of programs. But there's only one Turn90. Going big sometimes means giving up things that you love. Today we say goodbye to Turning Leaf and hello to Turn90."
The nonprofit celebrated its new name and expansion with an open house and ribbon cutting ceremony today. Honored speakers included Governor Henry McMaster, SC State Representative Kambrell Garvin, City of Columbia's Mayor Steve Benjamin, and Bryan Stirling, Director of the South Carolina Department of Corrections. The ribbon was cut by Governor McMaster and Turn90 graduate and staff member Aulzue "Blue" Fields.
"There's talent here," said Governor McMaster during the ceremony. "But, what we have to do is to teach those who have not been taught how to use their talent and how to put it to work for them, their families and the next generation that will be coming behind them and watching them."
The expansion and name change would not have been possible without the support of community partners like Boeing. "Boeing is committed to shaping a culture where everyone is included, valued, respected and supported in reaching their full potential. We are proud to support Turning Leaf and its expansion to the Midlands area. We stand behind the evidence-based program that enables men to successfully reenter society after incarceration," said Lindsay Leonard, Senior Director of National Strategy and Engagement and Government Operations with Boeing. Boeing has invested more than $22 million in racial equity focused programs across South Carolina in the last six years.
Another key partner is the law firm of Thurmond, Kirchner and Timbes. "Thurmond, Kirchner and Timbes is delighted to support Turning Leaf/Turn 90 with our financial contribution," says Managing Partner Paul Thurmond.  "For over 16 years, TKT has strategically supported local charities and philanthropies with donations of time and/or money. The criteria is simple- an organization that is well run, with a focus on truly making a difference in our community.   The leadership of Amy Barch is unparalleled, and the success of Turning Leaf/Turn 90 at getting formerly incarcerated men back in the workforce and not back into a jail cell is what compelled our law firm to step up. Other law firms need to do the same. We can break the cycle of reincarceration."