The Print Shop with a Purpose
You already know Turn90 is the Print Shop with a Purpose. We are the most logical choice for screen printing in South Carolina for anyone who wants their hard-earned money to serve people who need a little extra help. We operate in Columbia and Charleston but we're happy to ship elsewhere, even out of state.
But we're also a fully-functioning professional screen-printing shop dedicated to meeting all your apparel needs on time and meeting the highest quality standards. To that end, every garment that goes to press passes through no less than SIX quality assurance checkpoints.
Here's how we do it.
Pre-printing checks
Before a t-shirt goes to press, the Print Shop Manager makes the screens and sorts the shirts to ensure the correct graphic is with the correct shirts. The Floor Manager runs a test print to make sure the screens are lined up properly and signs off on the run.
On-press checks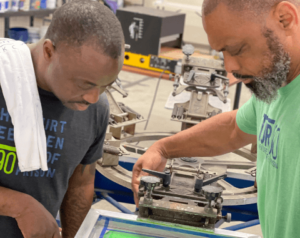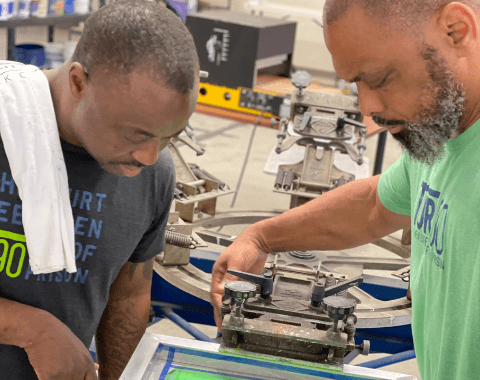 Every t-shirt, tote,
or tank is hand-loaded onto the press and checked for alignment by the loader and the printer. Each item is hand-printed and then spot-checked. If something looks funny or doesn't line up, or if the ink pushes through the screen unevenly, the loader and printer are responsible for checking in with the Floor Manager to see if a reprint is needed.
Post-production checks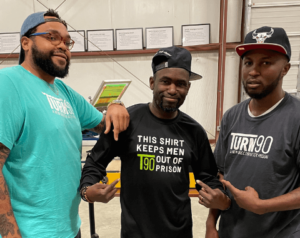 Each shirt passes through the heat conveyor to cure the ink, after which the man assigned to the folding area checks it for stray ink, graphic placement, and anything else that might look funny. Hole in the fabric? He'll catch it. Graphic off-center? He'll see it. 
We also have men tagging. Counting. Sorting by size and comparing to order sheets. Double- and triple- and quadruple-checking to ensure your order is complete, correct, and ready to go.
YOUR Print Shop with a Purpose
Turn90 employs formerly incarcerated men to help them find a new direction after prison. But we also maintain the highest of standards and expectations. We want to be your first (and last) call for all your screen-printing needs. T-shirts. Totes. Towels. Koozies. Hoodies. Tank tops. If it can be printed, we can make it for you. Get a quote today and get the branded merchandise of your dreams!