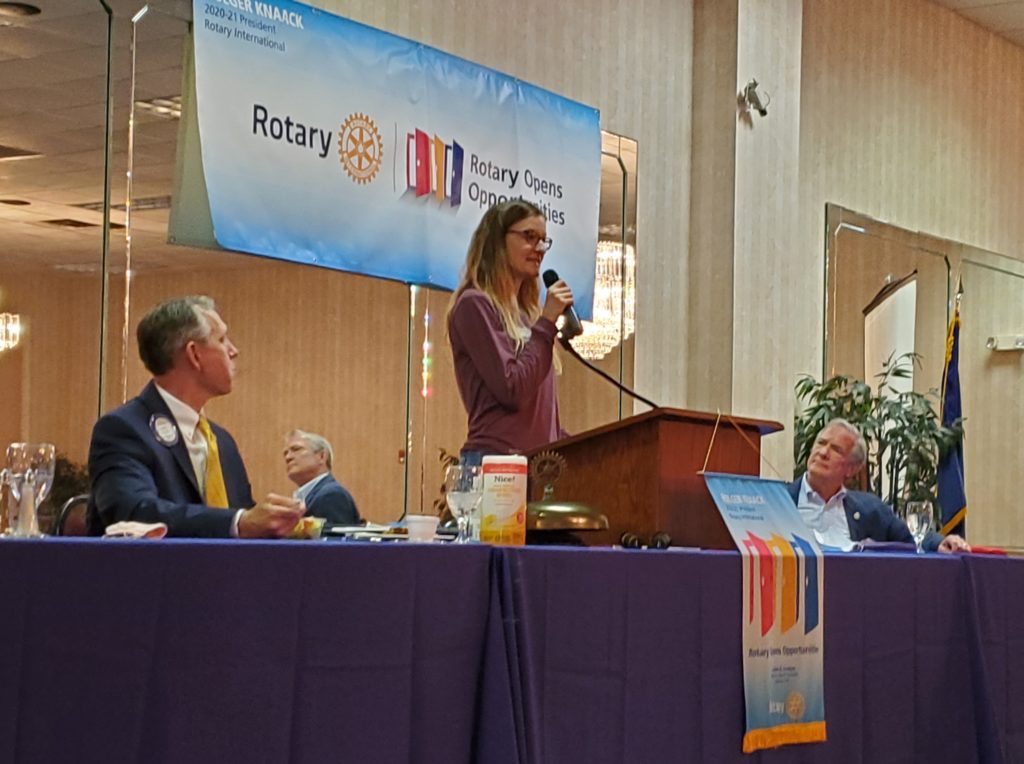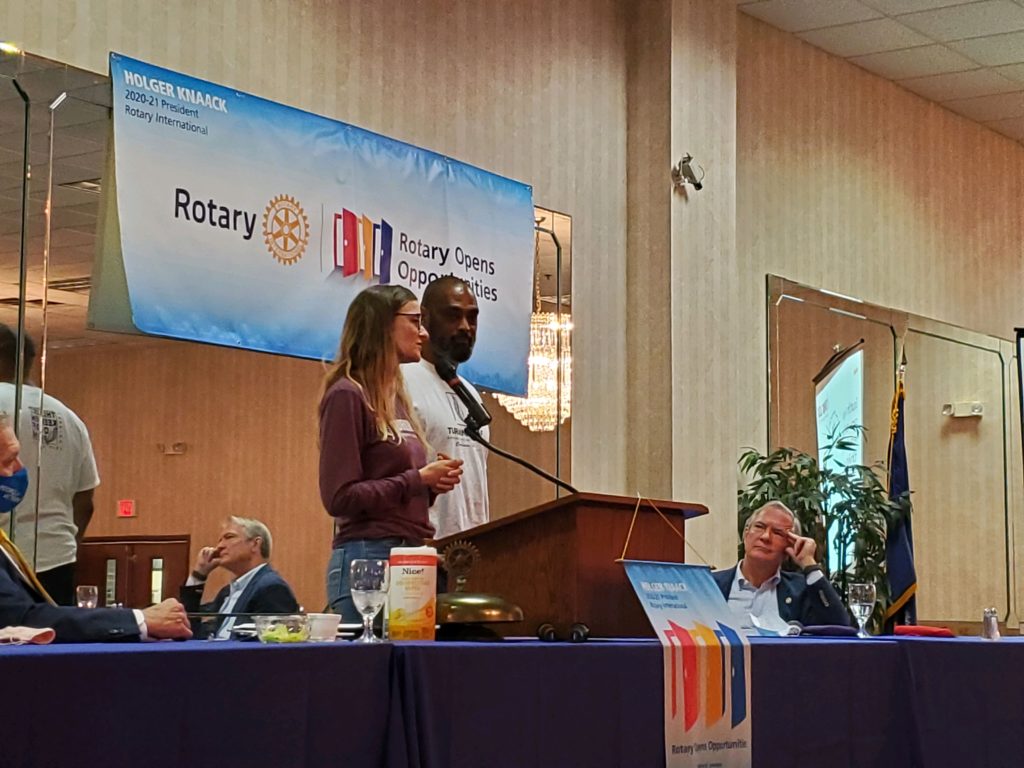 "I've always had a strong sense of fairness and equality, and an equally strong belief that people should get a fair shake in life," said Turning Leaf Founder and Executive Director, Amy Barch, at a recent meeting of the Columbia Rotary Club in Columbia, South Carolina.
Barch was invited, along with Aulzue "Blue" Fields, to share the Turning Leaf story to this group ahead of the organization's planned October 2021 opening of its second center. Speaking before a crowd of approximately 150 members, Amy first shared a bit of the "why" and "how" of Turning Leaf's origin.
The United States has 5% of the world's population, but 25% of its prison population. Since the 1980s there's been a 500% increase in the country's incarcerated people due mostly to policy changes and longer sentences. These were just a couple of the statistics that nudged Barch toward launching a nonprofit dedicated to helping formerly incarcerated men re-enter society. In 2011 she quit her day job and began volunteering in prisons during the day while waitressing at night.
The program she created based on proven methodologies includes 150 hours of group cognitive behavioral therapy (CBT), one-on-one counseling, transitional employment in the Turning Leaf Print Shop, and post-graduation placement in a job with a livable wage, benefits, and opportunity for advancement.
CBT teaches fundamental life skills, she explained. "CBT is widely recognized as the most effective intervention that can change criminal behavior in youth and adults, in currently and formerly incarcerated populations." Introducing the audience to Skill 18: Managing Frustrations, she explained how role plays allow Turning Leaf students to practice those skills in a safe environment.
Program graduate and staff member Aulzue "Blue" Fields also shared his story. "I lost my father to police brutality when I was eight years old," he said. Raised to believe he had to be a man of the house, Fields turned to the streets as a way to make money. His disregard for the rules was established, as was a hatred for police. "These are the people who are supposed to help us, but these are also the people who took my father's life," he said.
Fields talked about his childhood on the streets; his seven-month stint in a juvenile detention facility; his 20 years in prison; and his lifetime of regret. "I took a life," he said. "I have to live with that every single day."
Turning Leaf's program helped Fields to turn his life around. "When I got out of prison, I knew I'd rather die trying than go back. All I had left to try was Turning Leaf," he said. "I got there, and I never left."
As the Peer Specialist, he has a unique rapport with the students because he's been there, just like them.
The two answered questions about Turning Leaf's planned expansion before the meeting closed with a round of heavy applause and numerous thanks.
It was an honor for Turning Leaf to be invited to speak at the Columbia Rotary Club. We are all always thrilled for the opportunity to talk about our incredible students and the story behind the work we do.
Click this link to watch Amy Barch and Aulzue "Blue" Fields at the Columbia Rotary Club.